***

 

President TRUMP's -Fantasy- Has no 'Limits'
***

 

Supreme Court Rejects Texas Suit Seeking to Subvert Election
*** "Bad Omens" For Republicans Candidates in Georgia
    

By DANTE GONZALEZ / Special to The UNIVERSE News / EL UNIVERSO.
SAN ANTONIO,TEXAS.- Before the imminent appointment with the polls, next January 5, 2021, in the southern state that will decide the control of the Senate. An important political point for both Democrats and Republicans, where the margin of maneuver of President JOE BIDEN will be seen.
Rivers of ink are drawn in the political analyses of American newspapers, in the case of the State of Georgia. Where President DONALD TRUMP, and the Republican Party get off to a very bad start.
Let's take one of them. Analysts say: "…Allegations by DONALD TRUMP and its supporters did not work out about possible election fraud. And even went to the top. But, it was all in vain. Supreme Court Rejects Texas Suit Seeking to Subvert Election."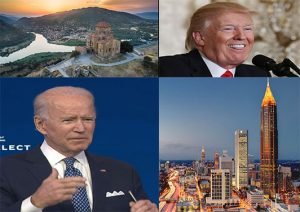 "…Filed directly in the Supreme Court, The Suit, sought to bar Georgia, Michigan, Pennsylvania and Wisconsin from casting their electoral votes for JOSEPH  R. BIDEN Jr. TRUMP's strategy based on a clear fantasy was confronted with a legal reality."
"…Even that time, the still President TRUMP believes in his lies, and deceptions that not is working with the bulk of his supporters. President TRUMP's fantasy has no limits. He lives in another world, very different from what millions of Americans enjoy every day."
"…The Confusion invades the Republican Party, and its candidates for Senator in Georgia. At this time, which they have to go to obtain a victory. They do not know what to do with the legacy of defeats of their presidential candidate TRUMP, who are hurting them in their campaigns."
"…President DONALD TRUMP's disastrous handling of the U.S. coronavirus pandemic is more than evident. Quite contrasting are the chilling figures that reflect on COVID-19."
"…Since the start of the pandemic, there have been a total of 18,035,209 cases of coronavirus and about 319,364 deaths, according to The Johns Hopkins University."
"…This is the deadliest year in U.S. history since the last century, and deaths – from all causes – now exceed 3 million for the first time, due primarily to the coronavirus pandemic."
"…Final mortality data for this year will not be available for months, The Associated Press said. But preliminary numbers suggest that the United States is on track to see more than 3.2 million deaths this year, or at least 400,000 more than in 2019."
"…But the 2020 figures reflect an increase of about 15%, and could increase once all of this month's deaths are counted. The Pandemic is unstoppable despite the fact that vaccination against COVID-19 has already begun."
"…That would mark the largest one-year percentage jump since 1918, when tens of thousands of American soldiers died in World War I and hundreds of thousands of Americans died in a flu pandemic."
"…The Supreme Court's crushing blow against TRUMP's allegations of voter fraud, and disastrous coronavirus management is a negative legacy of the President to Republican candidates for Senate, in Georgia: KELLY LOEFFLER, and DAVID PERDUE."
"…It's not just the COVID-19 pandemic that TRUMP couldn't handle properly in the country. But domestic commerce and industry also collapsed in 2020. As a result, the national economy lost its compass. In the face of TRUMP's ineptitude."
"…In addition to other national and international problems that affect the U.S. One particular TRUMP loss was the Trade War with China. The Black Lives Matter issue that shook the nation never it solution. And there in Georgia, TRUMP was defeated by JOE BIDEN."
"…With that noxious electoral burden they inherited from TRUMP. Senatorial candidates KELLY and DAVID are walking towards a resounding defeat.There are no positive signs. Even if TRUMP does return to electioneering fantasy, will not have. "
"…In Georgia, apart from the pandemic, the devastated economy and unemployment. It will be the Black Lives Matter movement that will pick up their injuries made by TRUMP, and the Republicans, next January 5."
"…A Relevant Fact: RAPHAEL WARNOCK, no less, is the pastor of the Mythical Church in Atlanta from which MARTIN LUTHER KING preached. If He wins, WARNOCK would become the first African-American senator in Georgia's history."
"…Along with Democratic senatorial candidate JON OSSOF,of 33 years old, a documentary filmmaker seeks to capture the majority of the Southern state's electorate. And with the endorsement of JOE BIDEN, they are walking confidently."
"…In several states of the American Union it is spoken aloud that Republican senatorial candidates KELLY LOEFFLER, and DAVID PERDUE are wrapped up in 'bad omens' for the election from the 5th of January."
Not Forget 'Friends' Readers of The UNIVERSE: "…If you know the plans of heaven, and engage in actions that transcend to do universal good. Always inevitably, you will have a full life and great joy, from all points of view."
"…If someone tries to destroy the plans of heaven, that someone will immediately have a severe punishment. He may even pay with his life. No one can play with heaven's plans. Be careful," advises The 'Wises' of The World. See You Soon in 'The UNIVERSE News, and EL UNIVERSO'.