*** VICENTE FOX And CALDERON Might be in The Jail
*** CALDERON Was From The Side of The "Drug Dealers"
*** US Authorities Are Investigating a "Criminal Network"
By DANTE GONZALEZ / Special to EL UNIVERSO.
San Antonio, TEXAS.- Amid of the millionaire losses caused by the coronavirus outbreak affecting global stock markets, equivalent to $444 billion in the combined fortunes of the world's 500 richest people, according to Bloomberg.
It Attracts Attention, the Information appears from US authorities are investigating a network of former Mexican officials allegedly involved with GENARO GARCIA LUNA, Secretary of Public Security with the President FELIPE CALDERON of the PAN, on 2006-2012.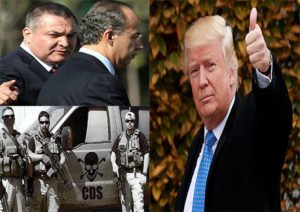 Conform with ALAN FEUER, who covers the hearings in the GARCIA LUNA case, prosecutors said that several of those former officials are currently occupying positions in the private sector in Mexico.They do not speak of names of "García Luna's accomplices", but the investigations continue.
In The New York Times, Journalist ALAN FEUER exposes: "…"Many of these officials are still in Mexico. … Many of them still hold powerful positions in the private sector," said one of the prosecutors."
"… The judge in charge denied bail to GARCIA LUNA. Prosecutors pointed out that there is a risk of escape because of the contacts the former official has."
"…GENARO GARCIA LUNA was still a senior official in the government of FELIPE CALDERON HINOJOSA (2006-2012) when he used front companies to buy real estate, the U.S. Attorney's Office charged this week."
"…In Arguing before the judge that he should not be granted bail, the authority called the former Federal Public Security Secretary "arrogant" and "brazen. He said he secretly bought through shell companies – even triangulating in Panama – real estate for millions of dollars and even a yacht."
"…GARCIA LUNA designed and conducted Calderon Hinojosa's "strategy" allegedly against the Mexican cartels. According to that country's Attorney General's Office, what the former federal Public Security Secretary did in those years was to favor the Sinaloa Cartel, one of the most bloodthirsty criminal organizations of all time."
"… It is also believed that he looked after the interests of JOAQUIN "El Chapo" GUZMAN, ISMAEL "El Mayo" ZAMBADA and HECTOR BELTRAN. GARCIA LUNA who was Secretary of Public Security from 2006 to 2012 under the government of former President FELIPE CALDERON, is accused in New York of three counts of criminal association for the trafficking of cocaine and of false testimony."
"…During the trial of "El Chapo" held in late 2018 and early 2019 in New York. The jury heard former Sinaloa Cartel member JESUS ZAMBADA testify that he personally delivered at least six million dollars to GARCIA LUNA in clandestine payments on behalf of his older brother, the cartel boss, ISMAEL "El Mayo" ZAMBADA."
"…The Witness said that he met with GARCIA LUNA in a restaurant between 2005 and 2006. JESUS ZAMBADA testified that he gave him a suitcase with three million dollars in it."
"…At that time GARCIA LUNA was in charge of Mexico's Federal Investigative Agency. In a second meeting in 2007, when GARCIA LUNA was already Secretary of Public Security, ZAMBADA said he gave him another suitcase with between three and five million dollars."
In Agreement with Political Science, Universal History, Psychology, Sociology, Philosophy, and other social sciences, including religions, the universal law say: "… Any being human which makes an evil in fellow man. It returns increased. If you do harm, come back increased towards you."
In the Case of FELIPE CALDERON is very illustrative. As President of Mexico served to drug trafficker. During six years of the Government of The PAN was from the side of the Drug Dealers.That situation the Government of DONALD TRUMP will prove in the Case of GARCIA LUNA.
On Mexico, the Majority of Mexicans thinks which VICENTE FOX and FELIPE CALDERON live permanently in the evil. For That, If the American Justice makes your job in the Case of GARCIA LUNA, both FOX and CALDERON might be in the Jail.
Do Not Forget 'Friends' Readers of The UNIVERSE: "…Do The Unexpected, And You Will -Never Have Problems- With Your Plans, Advise The Wises of The World"… See You Soon on… EL UNIVERSO.