*** Numbers Are Increasing: 225 000 Deaths in the U.S.
*** Today, People Are 'More Alert' : HILLARY
*** I Prefer to Talk With MERKEL, Who With TRUMP
     

By DANTE GONZALEZ / Special to The UNIVERSE News / EL UNIVERSO.
SAN ANTONIO, TEXAS.- U.S. President DONALD TRUMP denied on Monday that he had given up on fighting the spread of the coronavirus, and insisted, despite a new surge in infections, that the pandemic is in decline.
On a tour of Pennsylvania, a key state to win the November 3 election, the president was asked about the accusation by his Democratic rival, JOE BIDEN, that he is abandoning attempts to control the pandemic. I'm not," he replied.
We are definitely turning the page," he told reporters. On Sunday, TRUMP Chief of Staff  MARK MEADOWS told CNN that the government's focus now was on mitigating the pandemic, not eradicating the virus.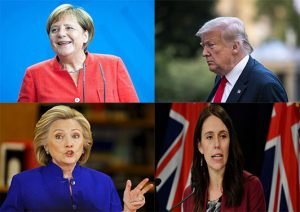 We are not going to control the pandemic. We're going to control getting vaccines, treatments, and other mitigations," MEADOWS said, comparing COVID-19 to seasonal flu, even though it has been shown to be more deadly.
Following his remarks, BIDEN accused TRUMP of giving in to the crisis, when more than 225,000 Americans have died, and contagion is rapidly increasing in the country.
It Was a sincere recognition of what has clearly been President TRUMP's strategy since the beginning of this crisis: to wave the white flag of defeat and hope that, by ignoring it, the virus will simply disappear," BIDEN said in a statement.
President DONALD TRUMP and his supporters routinely accuse BIDEN, 77, of taking the pandemic as an excuse to carry out a campaign to, they say, weaken him.
Former presidential candidate HILLARY CLINTON noted that in this election, unlike four years ago when she was defeated by current U.S. President TRUMP, people 'are' "more alert" and will not be so easily manipulated.
"…I think people are, as I said, more alert, willing to consider the possibility that maybe something they are seeing is not accurate," CLINTON said in an interview with journalist KARA SWISHER for her opinion podcast "Sway".
In a conversation that touched on several issues, but especially the November 3 elections in the United States and her views on TRUMP, the former U.S. first lady said that in the 2016 campaign they faced "unprecedented challenges," alluding to what she said was interference from Russia.
We couldn't get people to believe it. Everyone knows now what happened, and we're being told it's happening right now in real-time," said CLINTON, who said social networks, particularly Facebook, "were oblivious or negligent in what they showed, and had no real standards for any level of accuracy.
"…But now, I think this has been in the atmosphere, people are more aware, and I don't think they are as easily manipulated as they were before," said the former First Lady of the United States.
The Development of the 2016 elections has been the subject of debate in the U.S., and even in October of last year, the Senate Intelligence Committee published a report concluding that the Russian Internet campaign prior to those elections harmed CLINTON, and prompted TRUMP.
TRUMP, who on November 3 will run at the polls before Democrat JOE BIDEN, has questioned the U.S. Intelligence's findings that the 2016 election was targeted by Russian manipulation, sometimes adopting conservative conspiracy theories.
The Russian Internet Research Agency (IRA) has already been sanctioned by the US Treasury, the State Department, and formally charged by Justice with attempting to interfere with the 2016 presidential election and the 2018 legislative elections, in which all the representatives of the lower house and one-third of the senate were decided.
Among other questions asked, she was asked if she would like to interview TRUMP. I like to talk to people that I care about and admire, and I don't find that interesting or admirable," she said.
And I was inclined to talk to German Chancellor ANGELA MERKEL  or New Zealand Prime Minister JACINDA ARDERN, saying she wants to continue to emphasize "what it means to be a woman in power."
"…I would like to do what I can to encourage people who have been on the front lines and try to acclimate American voters to the idea of a woman president," she added.
Not Forget 'Friends' Readers of The UNIVERSE: "…In the struggle of Good against Evil experienced, for centuries. You seek the support of Heaven (Up ) to overcome Evil (Down). Whenever you want to obtain triumphs."
"…But, If you follow the way of ignorance developed by the blind, arrogant, and the wicked inevitably go to ruin. And you will accumulate only failures", advises The 'Wises' of The World…See You Soon in… 'The UNIVERSE News, and EL UNIVERSO'.